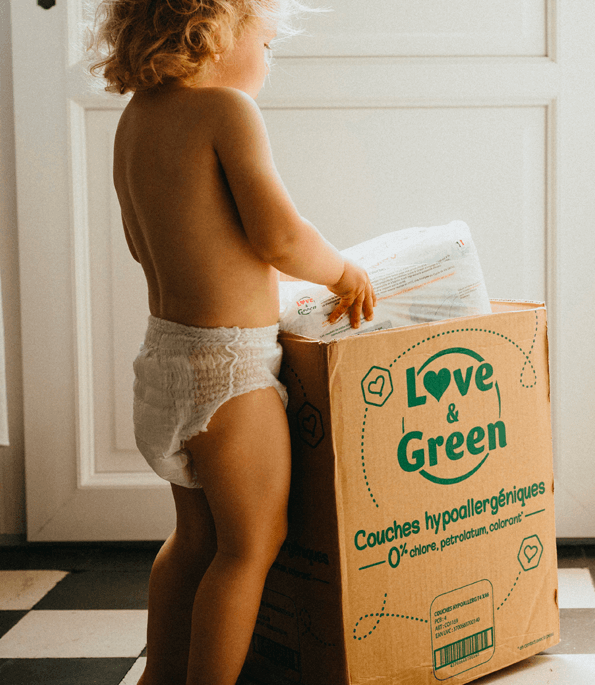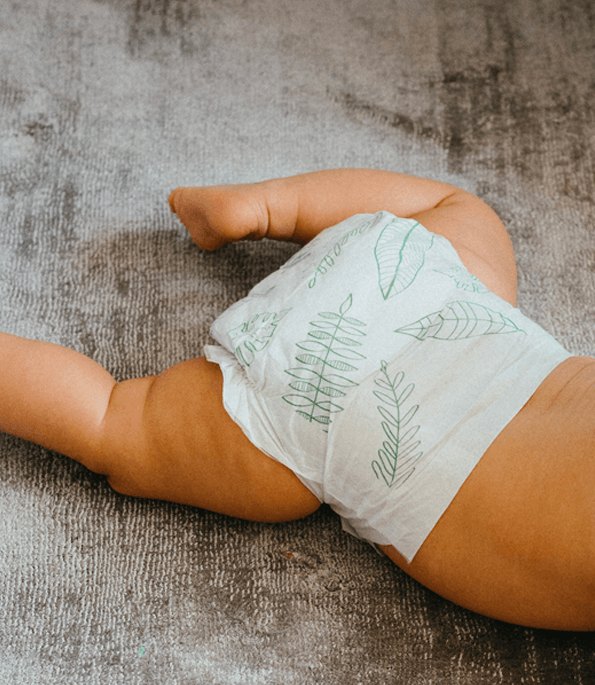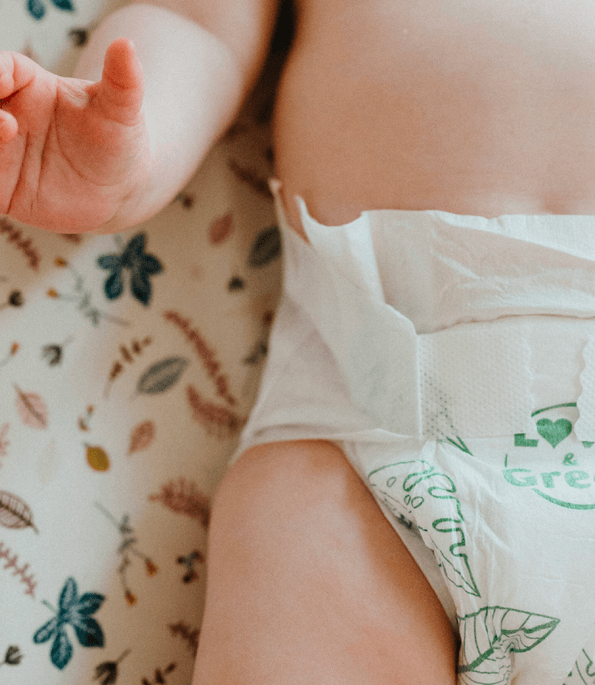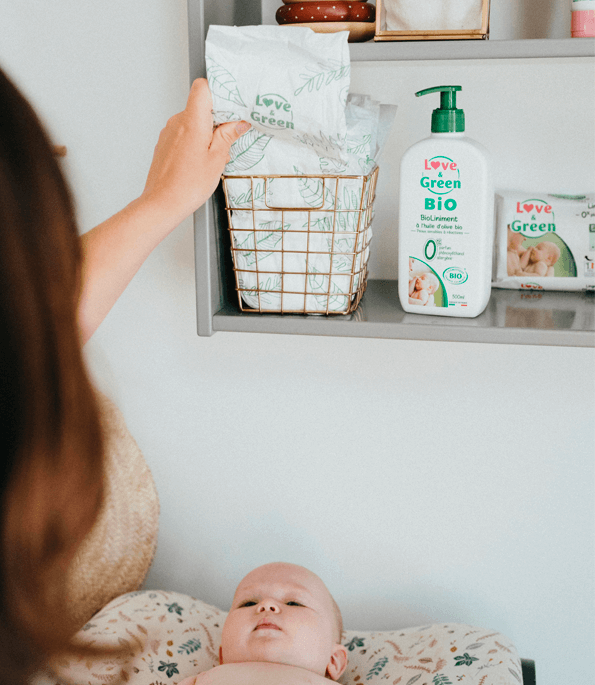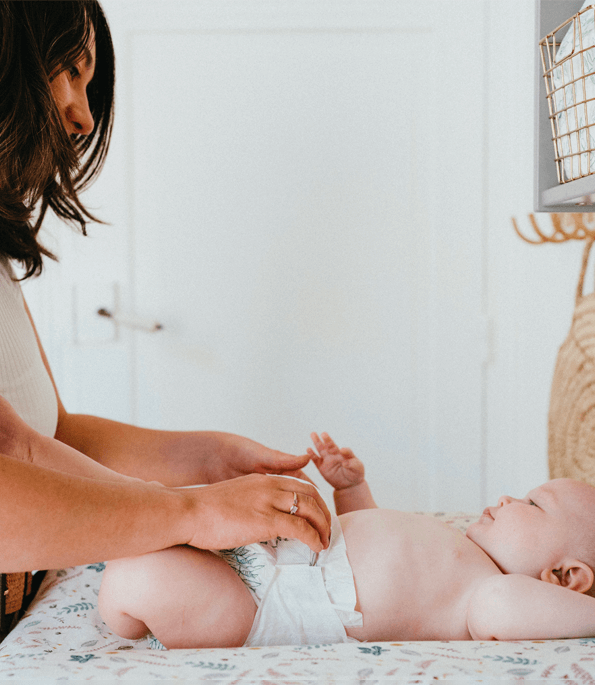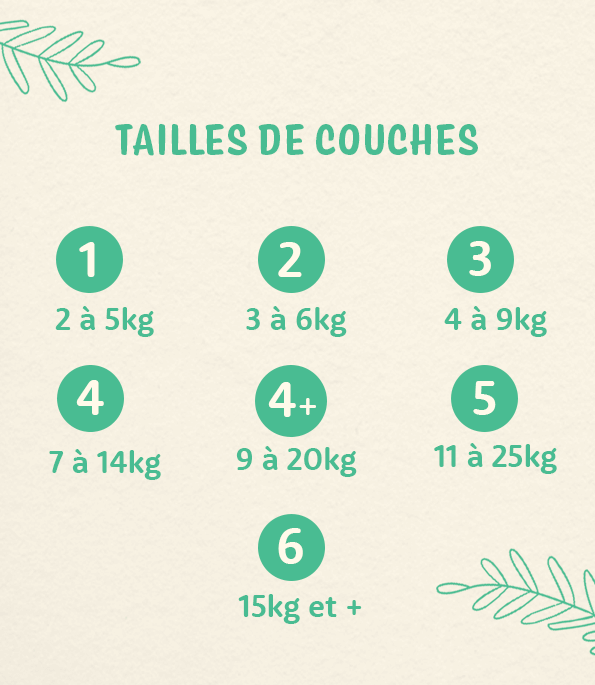 Ecological Nappies Subscription Size 2
Love & Green ultra-absorbent hypoallergenic diapers offer up to 12 hours of protection for baby and are recommended by 100% of doctors*! ​​Without unwanted ingredients, they take care of fine and fragile skin from birth and are suitable for all skin types. ​The veil and barriers in contact with the skin are of natural origin (corn, beet, potato and sugar cane starch) and are very soft! ​They are hypoallergenic, tested under control dermatological ​and specially developed to minimize the risk of allergies: no lotion or coloring in our diapers! They have the Dermatest label ® 5 stars: Excellent .
​For greater comfort, the birth size diapers (Size 1 and Size 2) have a rounded cutout at the umbilical cord which limits friction and will allow parents to provide care more easily!
NEW : The Love & Green diapers now have a very soft pattern: thanks to a water-based and solvent-free ink, small green leaves decorate the diaper!

And a Love & Green diaper is always:
🍃 Bleaching without chlorine or chlorinated derivatives (TCF certification: Total Chlorine Free), no petrolatum  nor paraffin
💧 Effective: 3 distribution tubes in the cushion for optimal absorption for up to 12 hours!
🐣 Comfort: with an ultra soft and fine cushion made from FSC® and TCF certified cellulose
🏆 Certification: European Ecolabel, FSC®, TCF, Dermatest® (Excellent 5 stars), Cruelty free and vegan
🔄 And recycled and recyclable packaging!

💪 The only diaper brand to have been number 1 twice in the ranking of 60 million consumers! In 2017 (n°523 published in February 20217) and for the latest ranking in 2020 (n°562 published in October 2020)!
*CSA study carried out in November 2022 with 142 partner healthcare professionals. (midwives, general practitioners and pediatricians).
Our certifications & labels
Our diapers and pants are certified European Ecolabel, Dermatests®, and the cellulose they're made from is FSC® and TCF certified: meaning it comes from sustainably managed forests and controlled sources, and is bleached without chlorine or chlorine derivatives. Our Pure Nature range features unbleached cellulose.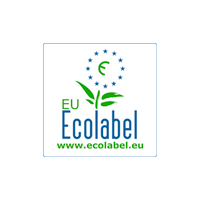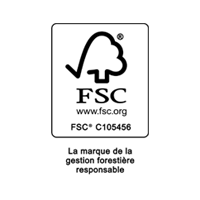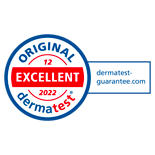 Attaches et oreilles élastiques : polypropylène, polyéthylène, velcro et film élastique copolymère.
Voile en contact avec la peau : PLA & Green PE (amidon de maïs/canne à sucre/betterave/pomme de terre), hydrophile du côté de la peau, hydrophobe de l'autre côté Voile d'acquisition (absorbe les liquides pour les distribuer vers le coussin absorbant) : fibres polytéréphtalate d'éthylène et polypropylène non tissé Pas de lotion, pas de colorant.
Coussin/Matelas absorbant : 100% cellulose certifiée FSC® (provenant de forêts bien gérées et d'autres sources contrôlées) et TCF (blanchie sans chlore et dérivés chlorés). Microbilles absorbantes : en polyacrylate de sodium.
Barrières fécales : Green PE et polypropylène Elastiques /Fronces protectrices à l'entrejambes : Elasthanne
Voile extérieur : Film polyéthylène et voile non tissé polypropylène Informations complémentaires : - 0% huiles minérales (petrolatum, paraffine), 0% colorants (à l'exception de la bande frontale indiquant la zone de positionnement des velcros, sans contact avec la peau), 0% allergènes - Hypoallergéniques et testées sous contrôle dermatologique - Fabriquées en Espagne
A healthier, more natural range of diapers
Veil in contact with skin
Love & Green offers a diaper with natural skin contact: contact veil and anti-leak barriers. The cellulose is FSC® and TCF certified, with no chemical lotions, perfumes or dyes.
European Ecolabel certified
The European Ecolabel is a certification guaranteeing that products meet quality requirements and respect the environment throughout their life cycle (from raw materials, through manufacturing, to end-of-life).
C'est vous qui en parlez le mieux